Shabooty Interview Series: Bonnie Rotten [EXCLUSIVE]
To take a page out of Bonnie Rotten's twitter bio, she's that hot new tatted up adult film starlet, a 2013 multiple AVN & Xbiz Award nominee, an Ohio native turned Los Angeles transplant, and she's probably starring in the last steamy video you secretly watched, as your wife was changing diapers in the other room. We discuss everything from tattoos, to how she got in the business, to what kind of guy-crushes she has (hint: me, if I had no hair and was older), and way more. Here is the Shabooty Interview of Bonnie Rotten.
Audio clip: Adobe Flash Player (version 9 or above) is required to play this audio clip. Download the latest version here. You also need to have JavaScript enabled in your browser.
Shabooty: You have an old soul. You seem mature for your age.
Bonnie Rotten: Yes, I have to be. I've been growing up on my own basically from a very early age. So you grow mature 'cause there's no time for immaturity.
What are you doing for Valentine's Day?
I'm gonna be recovering because I have another gang bang on the 12th.
That was one of my questions. You recently did a gang bang how was that?
Oh my gosh, it was amazing. I came like ten times. It was awesome. It was all really awesome, strong guys, with big d*cks, so def. was extreme and intense. Have you seen it yet?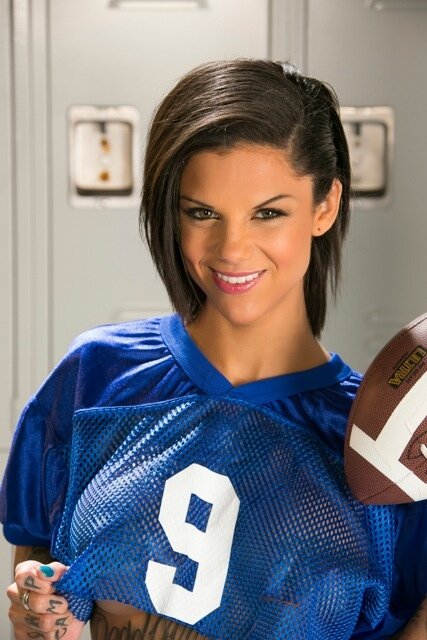 Is it already out?
Yeah, it's on Adult DVD Empire. You can download it, or you can order it. Digital Spin has it on demand.
Are you doing the next one with the same people?
No, the next one is with Zero Tolerance.
By the end of it, were you physically okay?
Oh I was more than physically ok. My body was extremely happy, but I def. needed to gome home and soak in a bath [afterwards].
What do you weigh a 100lbs. or something?
105 on a good day.
How tall are you?
5'7″
You're taller than I thought you were.
Yeah, everybody says that. I'm tall and in heels I'm like 5'10". Not little.
You are from Ohio originally?
Yes, I'm from Cincinnati.
What's Cincinnati known for?
I just know the Reds, and Bengals, and La Rosa's is a great pizza place, and there's Skyline Chili there which is the shit… so, we have a few things. It's south-western Ohio, closer to Indiana.
Have you heard of the tattoo artist, Toon?
Yes, I have. I can't put a face on the work or anything, but I know I have heard the name. I see the signs.
I was wondering who you're a bigger fan of? Kat Von D, or Toon?
Kat does some really cool work, but I've never been to her shop or anything like that. I have a lot of guys in Ohio that I've always loved, and I'm kinda attached to them. Coming out to California is kind of like — it made me worry who I'm gonna get tattooed by, because in Ohio I had so many artists, and here, it's kinda like rolling the dice. It's more commercialized.
Did you get most of your work done in Ohio or Cali?
All of it in Ohio. I started getting tattooed at age 15.
So an Ohio tattoo artist is more authentic than an LA tattoo artist? (vs. a fly by night one in California you think?)
For sure. I don't wanna speak for all the shops. There are some great shops here. But it's a little scarier.
In LA everyone's just doing what's cool now, so all of the tattoo shops in LA must be catering to that kind of [douchey] guy.
Right, yeah. I haven't really been in many. I've been in a few and they're nice.
Originally, you were modeling for car shows?
Yeah, my first photo shoot was for a company out of Cincinnati that built custom cars like '67 Impalas and they trick them out and make them really bougie — let's not lie, but they look really cool, and they put a lot of money into things. It was a great company to work for, and I'd travel to Indianapolis, Chicago, Detroit, Kentucky, all around the midwest with them, and modeled at their booth, and signed my poster, etc. Then I got work doing motorcycle shows, and more conventions, and now I work for LA choppers.
Were you one of those chicks that would only date a guy with a killer car?
Lol. Yeah, I used to be that girl.
How did you first make that big move from Ohio to California?
Basically, what had happened was, I had worked and I had networked at the different conventions and I got into a Horror Pageant and it was called Miss Dead Indiana. For girls in corpses, and I won the pageant, and basically it was you win a trip to LA. And shoot for the magazine. So I came out to LA for the first time, and shot for the magazine. While I was out here I was introduced to Nina Hartley, Ken Marcus, and different people, and I was like this is really cool. I went to a big bondage party, it was Ken Marcus' birthday. And I was like this is crazy. There was this girl suspended with Saran wrap, and squirting all over the place (by forced orgasm), people in latex faceless masks being walked on leashes and shit, and I'm like alright this is weird, I like this shit. I wanna be involved in this. So I went home, and I started to do some photo shoots and I started to figure out how I wanted to do things. And talking to people out here, and I was like it's time, I don't wanna be in Ohio anymore dancing. I wanna be out there and do something freaky. So I came out here and started doing bondage work and met companies and ended up working for bigger companies.
When you're filming a rough bondage scene, you're not scared at all?
No, because the companies you work with, they have you give them your no list. You tell them you're not okay with… you know that the company is responsible, careful and non-abusive and that's the most important part. You don't want sadists working on you. You don't wanna be beat by a sadist, because if you're gonna get beat by a sadist, you're gonna be hurt. And not in a good, enjoyable, painful way, but in a harmful way.
You tweeted the other day that your n00dz when you were 17, got leaked on the internet? A boyfriend did that?
I dunno. I'll be honest, I sent a lot of nudes when I was at home. I was bored I was in Ohio, what am I gonna do out there? Yeah, I sent out some pictures I guess to different dudes I was
banging, and one of 'em sent them in [to a revenge pr0n site], but the joke's on them, because it got removed immediately once somebody was like, "she's only 17!" I don't remember how old I was, but I was underage.
Do you say how old you were when you lost your virginity?
13.
Was the guy way older?
He was 13 or 14. He was a year older than me, but in the grade younger than me.
How old were you the first time with a girl?
I was with a girl for the first time — her name was Maggie. I was with her when I was 14.
In Ohio y'all don't waste time, do you?
Nope, not wasting any time.
Speaking of girls, who are your female friends in the industry?
I don't really hang out with that many people in the industry, 'cause I'm always traveling, but I like Juelz Ventura, I like Riley Reid, Gia Dimarco, I keep men in my company a lot. I grew up around boys, so…
Are you friends with [my friend] Andy San Dimas?
I like Andy. We don't really hang out, but we talk a little bit sometimes. She's a sweet girl.
Would you go on the Howard Stern Show to play the 'Dumber than a Box of Rocks' Game?
That's a hard question. I would love to be on Howard Stern, but I'm not dumb, I don't want to pretend like I'm an idiot.
Would you go on the Stern Show and ride the sybian?
Yes.
You've rode one before?
Yes, they're the best.
On video or in your private life?
Both. I'm on c*m-bots tied up to one.
What was your first tattoo?
I tattooed myself. I wrote DTF and MKD on my stomach — it was so stupid. Me and my friends got the indian ink and the needles, and tattooed ourselves. And then a couple of years later, regretted it. So I did that at 13. And got my first professional tattoo on my stomach. It's a big zombie from Night of the Living Dead, the original comic book series, issue number one.
You still have the D-T-F one?
It's underneath it, you can kinda see it, but no. It's funny how that became a thing now though, because when I got that, I got so much sh*t for having that tattoo.
On your left thigh, who's the picture of the guy on it? [Editor's note: That looks like Heisenberg from Breaking Bad]
Frank Sinatra.
I thought it was Heisenberg.
People say Clint Eastwood or Bing Crosby. And I'm like no…wrong. Frank Sinatra.
That means you're Italian?
Yes.
A you a good cook of Italian food?
I can cook anything.

If you're such a good cook, how do you stay in such good shape?
That is a problem. I ate four times today, and I do not gain any weight. I've had Panera, eggs, toast, cereal, gummy bears, and snacks, and I just cannot put on weight. I'm gonna go have blood work done to look at that.
But wouldnt most women wanna be in your position?
Yes, I mean there are worse problems in the world to have, right?
Certain guys like meaty chicks, and I like stick chicks as my type!
Thinner… yeah, I mean it's great, but on camera sometimes I feel like I look a little skinny and I dunno. I would like to have an ass.
But there are certain guys that are into the way skinny look, and I'm more so into that than a girl with a big tank ass.
Yeah, I just want a medium ass, not a tank ass. I just want a little pop. A bubble.
Would you ever consider getting ass implants?
No. I don't think I'm gonna ever have surgery again. I don't like it. I don't like the feeling the way I did. I was in pain. I was up the day of, functioning and doing whatever, but I can't
handle the pain medicine or anything. So I was trying to smoke. And then when I was trying to smoke, people came up to the hotel room, 'cause I was in NY, and they were like, "HEY! We know you're smoking, and blah, blah, blah…" And I'm like, "I'm not smoking, I dunno what you're talking about, get out of my room , WTF!"
If you had to do it all over again, would you still get your boob implants?
I love my boobs now, I just didn't like the process.
If you could reverse time would you not go through it or would you still do it?
It was worth it. Yeah, it was worth it in the end. No pain, no gain, but I just do not enjoy a foreign object suddenly in my body.
So no, to ass implants?
No, no face work, none of that shit. Not downing anyone that has it or anything like that, I just don't particularly like it on my self.
Are you into piercings as well?
Oh no, I had a lot of piercings, septum pierced, I had my lip pierced, I had my chest pierced, and my hips, and my cartilage, all of it. But all of them went bad. Like my septum when it was pierced, it went through the cartilage instead of the piece of meat like it's supposed to go through. My lip got all swollen and huge, my chest rejected it. My stomach rejected it. I'm just not a fan of piercings. I don't like having to be careful with stuff. I don't like the healing process of anything. Tattoos suck, too, but I can deal with them a little bit more than an object in my skin, healing.
When you see people in the movies getting tattoos you always see the drinking, but you're not supposed to drink when you get tattoos, right?
Oh yeah, don't drink during tattoos because it thins your blood and it makes it harder for them to tattoo you, because you're bleeding the whole time.
Do you have any sisters?
I have a half-sister, and two half brothers.
Have you slept with any celebrities?
What's a celebrity to you?
Someone that's verified on twitter.
I'm not even verified on twitter… Um no, not really. Just pr0n people.
Who's your famous guy crush, that you'd sleep with in two seconds?
Bruce Willis. I love him.
You like the older, bald-headed guy?
Yes. I do… I'm a freak for 'em.
You don't have a father figure fetish?
I think so. I think so.
What's the oldest guy you've dated in your personal life?
They're always older, bald.
Like a 50-year-old guy to you is young right?
No, not 50. Like, 40, and more like 35.
Thanks for your time, Bonnie!
[Shabooty 02-12-2013]